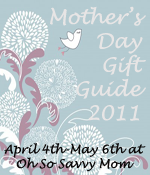 Today is Day 1 of Oh So Savvy Mom's Mother's Day Gift Guide!  I have a wonderful line up of gift ideas for mom's in every walk and chapter of life!  I will be featuring a new gift idea on Mondays, Wednesdays, and Fridays so don't forget to check back often to see what's new…and what you can win!
WaterField Designs is a leading maker of distinctive, custom-fitted, cases and bags. All products are manufactured to exacting standards in San Francisco.

We use black, ballistic nylon (used in bullet-proof vests) because it's highly durable and keeps its lustre for many, many years. Our bags' inside liners are gold rather than black – not because it looks cooler (although it does), but because it gives you instant visibility of your bag's contents. Industrial-strength hardware is used for the buckles, zippers, and D-rings to easily and reliably hold and balance heavy loads…In a nutshell, WaterField products are ridiculously well-made, fastidiously designed, have more personality than you can shake a stick at, and are so "user-friendly", that you can actually operate them with one arm tied behind your back. This turns out to be a huge benefit for high-frequency travelers; the busy, laptop-carrying, cell phone-obsessed commuting types; or the dual diaper/carrying bag parents.
This case is perfect as a travel case–it's original and intended use.  The case has 5 pockets in the main pouch with enough room to store an iPhone (or an old school non-smart-phone in my case), cords for your computer, iPod, camera, and phone.  It also has an exterior zipper pocket with 2 additional storage pockets.  If you don't travel with a lot of electronics this bag is perfect for quick access to your wallet, passport, money, and makeup.
Here is a little peak at all the gadget items that can be safely stowed in the bag.
While you are not trekking through airports this bag makes an excellent and compact diaper changing essentials bag.  You can fit a few disposable diapers, some wipes (not in a slim wipe box though), and any other small mommy things you need to stow.
I really love this bag!  The look of the bag is versatile enough that it can be used by mom or dad.  The exterior material of the bag is easy to clean and has a very sleek luster.  The quality is absolutely fantastic! And the the thing I love most about this bag??? I can use it for so many things!
Buy It:
The WaterField Designs iPod/iPhone Travel Case comes in 3 sizes, 6 different colors, and can be purchased from www.SFBags.com for $35-$39.
Disclosure: I was provided the above mentioned product at no cost to myself in order to facilitate the review.  The opinions expressed are honest and are entirely my own.