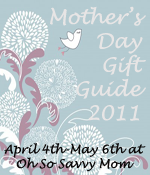 For some moms cooking dinner every night can be a chore.  I happen to be one of those moms.  I used to consider myself a pretty good cook.  I rarely used recipes and was quite creative in the meals that I could come up with.  As a teenager I did a lot of the cooking at my house (for 10 people mind you), and, occasionally, there was really not much in the pantry to work with.  I learned to improvise when I cooked and, because I, myself, am a picky eater, I did not make anything that I would not enjoy eating.
Well, somewhere during motherhood I lost that drive, creativity, or whatever it was (could it possible be that small children seemed to be wired to become very demanding as soon as mommy steps over the threshold into the kitchen) and the occupants of my household have suffered through quite a few mundane meals lately.  When I was contacted by
Viva Editions publishing
about including a few of their books in my Mother's Day Gift Guide, I knew that these books would be a perfect fit.
One of the books I received was
The Lazy Gourmet: Magnificent Meals Made Easy
; In the words of the authors, The Lazy Gourmet
is for anyone who dreams of dazzling guests with fabulous home-cooked fare, but fears that such a feat would require Thomas Keller's talent, Martha Stewart's ingenuity, Gandhi's patience, and Charles Manson's free time. The goal of The Lazy Gourmet is to conquer the misguided belief that preparing an elegant meal requires spending hours—or days—in the kitchen.
When I got The Lazy Gourmet.  I thought it would be recipes for simple fare that tastes good.  Well the recipes are fairly simple but the authors are serious when they call their recipes "gourmet".  I'd say that over half of the recipes were things for dishes I'd never heard of or couldn't pronounce the names for.  Don't let that scare you off though.  In the introduction the authors remark, "Cooking a great meal can be just as easy as cooking a crappy meal! So relax! Stop fretting over elaborate recipes and cumbersome techniques and start cooking the Lazy Gourmet way."
Here are some other things I love about the book.
At the beginning of the book the authors give you a list, complete with a description of each item, that you should always keep on hand.  The authors frequently use the items on the list in their recipes as they will "turn the mundane into magical on a moment's notice."
The authors include a section of tips for "Rookie Cooks" that include how to cook meat, sharpen knives, get the most from your leftover ingredients, and many more tips that made me say "aha!"
The authors discourage the cook from feeling bound to the exact recipe, and in the recipes they include ideas for ingredient substitutions.
Overall, this is an excellent book for those that enjoy cooking, but are perhaps a little intimidated by the "gourmet" meal, and for those who simply love great food.
I also received a copy of The Frugal Foodie Cookbook and Fix It, Make It, Grow It, Bake It; The D.I.Y Guide to the Good Life.
The Frugal Foodie Cookbook: Waste-Not Recipes for the Wise Cook
is a great book if you're looking to cook simple, quick, and frugal meals.  You won't find much of the gourmet in this book, but you will find plenty of recipes for simple, great tasting fare.  One of the things I noticed about the recipes in this book is that the dishes are things my kids would eat.  They have a great deal of variety without being too exotic.  In every chapter the author adds in a non-recipe page called Cents-able Solutions.  In one chapter they talk about substitutions–what to use if you are out of baking powder, buttermilk, chocolate, etc.  This book may be too simple for those who prefer the gourmet menu, but I think it is right on track for the average cook who needs simplicity, frugality, and speed in their meal prep.  This would also be a perfect gift for the cook just moving away from home, going off to college, or getting married.
Fix It, Make It, Grow It, Bake It: The D.I.Y. Guide to the Good Life
is an all around awesome book.  Unlike the other two books, this is not just a recipe book.  This book talks about everything you may need to do to revamp your life in order to live more simply, more organically, and more frugally.  It talks about ways of living as extreme as Freeganism and as practical as gardening, canning, and cooking from scratch.  In this book you'll learn how to make your own eco-friendly household cleaners, simple herbal and essential oil remedies for common ailments.  For instance, I learned that the Grapefruit Seed Extract I bought on Amazon.com to clear up little brother's yeast rash, due to it's anti-fungal and anti-bacterial properties can also be used to clear up dandruff (you do know that dandruff is the result of fungus right? nice…blech) and cradle cap.  It is also a great mouth wash and gingivitis treatment (way to go anti-bacterial properties!).  I HIGHLY RECOMMEND THIS BOOK TO EVERYONE!  If living more simply and more eco-friendly interests you're not going to want to pass up this keeper.
Buy It:
You can purchase any of these books from Viva Editions publishing (they offer free shipping in the US) or from Amazon.com
.
Win It!
Viva Editions is giving one of my readers a copy of The Lazy Gourmet!
 Here are the rules:

*Please leave a separate comment for each entry so if it says 2 entries please leave 2 comments. If your email address is not visible in your profile, or if you do not have a blogger profile please leave your email address in a form similar to amy at ohsosavvymom dot com (this will reduce spam).*
Mandatory Entry (must be done before the extra entries):
1.  Follow my blog via Google Friend Connect.  (1 entry)
Extra Entries (after the mandatory entry has been completed): If you already do these things that counts too!  I have included many different ways of entry in hopes to give everyone a chance.  You may do as many or as few as you'd like.

2. Subscribe to Oh So Savvy Mom by email. You must confirm your subscription. (1 entry)
3. Like Oh So Savvy Mom on
facebook
. Please leave your facebook name–first name & last initial (2 entries)
4. Visit Viva Editions and tell me another of there titles you think sounds like an interesting read. (1 entry)
5. Follow me on
twitter
(be sure to leave your twitter name), and tweet the following (1 entry):
#Win The Lazy Gourmet; Magnificent Meals Made Easy from @Ohsosavvymom ! http://bit.ly/gEwFjt Ends 5/2 @LowerHaightBK #giveaway #foodies
May be tweeted 1x per day for an additional entry each day.
6. Refer a friend to enter.  In order for this to be a valid entry your friend must enter (make a comment) and let me know that you referred them.  You must then come back and leave a comment stating that you referred that person. (2 entries per referral)
7. Put my Mother's Day Gift Guide button on your blog sidebar OR blog about this giveaway  Leave me the link. (3 entries)
8. Enter any of my other giveaways. (1 entry for each additional giveaway entered)
Giveaway is open to residents of US only and will end 5/2/11 at 11:59 MST.  Winner will be chosen via Random.org, will be notified by email, and will have 48 hours to respond or a new winner will be chosen.
Disclosure: I was provided with the above mentioned books by the publisher at no charge to myself in order to facilitate a review.  The opinions expressed are honest and are entirely my own.